RR etchings - 97-07-30

Railroad Etchings - by Rick Blanchard



I have a series of railroad related original intaglio prints for sale.
They are based on photos of equipment and locations
on the ASTF, and the SP narrow gauge lines.

These will dress up your train room, living room, or club house, and they make excellent gifts too. Portions of each edition have already been sold, and when the edition is gone, it's gone. Printed area is approximately 6in by 9in. Click on an image for a full size view. The sharpness and quality of an etching just doesn't translate well to the screen, but the low-res view gives you a 'free home trial' to put up.

Each print is signed and comes with a certificate of authenticity.

Price per print is $95.00 US, unframed, plus shipping.

If you are interested, please e-mail me at:

Rick Blanchard - rick@urbaneagle.com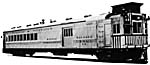 --To da trains!--

©1997 blanchard design, all rights reserved