F&CC - 07-03-09

Florence & Cripple Creek Boxcar Project
DECALS

PLEASE NOTE - THESE DECALS ARE NO LONGER IN PRODUCTION.
THE INFORMATION IS LEFT UP FOR REFERENCE ONLY

All of these images are Copyright 2001, Richard Blanchard.
Any use of these images for other than personal reference must be obtained in writing from me proir to their use.
Background image of boxcar courtesy of Curtiss H. Johnson.

Decal versions available:
Click title for diagram.

Florence & Cripple Creek, single line version, no logo.
Florence & Cripple Creek, Gold Belt logo.
Nevada County Narrow Gauge Railroad
N-C-O Railroad, no herald
N-C-O Railroad, with herald
N-C-O Railroad, with reefer herald
Pacific Coast Railroad
Southern Pacific Railroad, black background herald
Southern Pacific Railroad, white only herald
Magma Arizona Railroad
Montana Southern Railroad
Naval Supply Depot, Pearl Harbor, HI
Comments or Questions?

Rick@urbaneagle.com
To SLIM RAILS
To Nn3 pages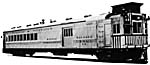 To da trains!


page design ©2001 blanchard design, all rights reserved.